Best Practices In Equity, Diversity & Inclusion (EDI)
The PERC network is committed to excellence in research and research training. Achieving a more equitable, diverse and inclusive Canadian research network is essential to creating the excellent, innovative and impactful research necessary to advance knowledge and understanding, and to respond to local, national and global challenges.
What is EDI?
Equity is defined as the removal of systemic barriers and biases enabling all individuals to have equal opportunity to access and benefit from the program.
Diversity is defined as differences in race, colour, place of origin, religion, immigrant and newcomer status, ethnic origin, ability, sex, sexual orientation, gender identity, gender expression and age.
Inclusion is defined as the practice of ensuring that all individuals are valued and respected for their contributions and are equally supported.
PERC recognizes the importance of understanding systemic barriers from individuals from underrepresented groups. We welcome applicants for the three awards that the PERC network offers (David Johnson Award for Best Fellows Presentation, Terry Klassen Young Investigator Award and the Amy Plint PERC Mentorship Award) from all backgrounds, including those who identify as a member of an underrepresented group including members of visible minorities and other racialized groups, women, indigenous people, persons with disabilities and those belonging to LGBTQ2S+.
Please see below graphic created by the CAEP Equity, Diversity and Inclusion Resource Centre which reflects the PERC Network's stance on award judging: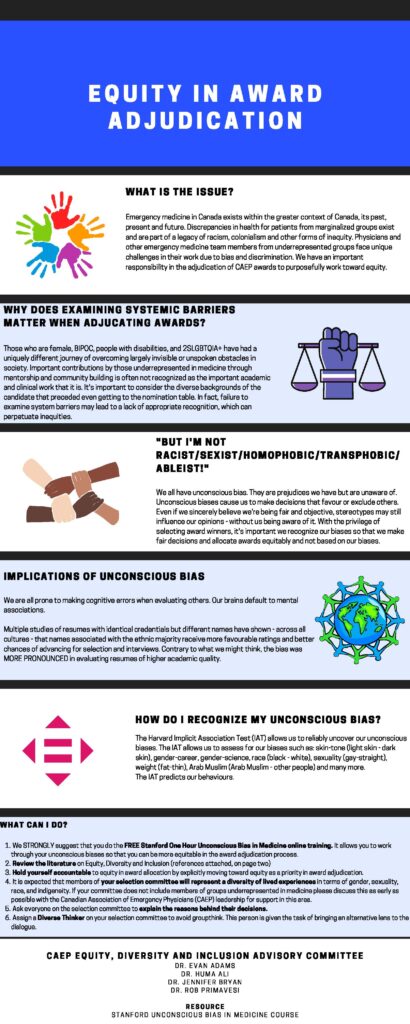 This page has been developed with the help of resources from: